All vehicles require tender, love, and care to run like new year after year. Fords are no different. Still, when confronted with the fact that your truck, SUV, or car needs a part replaced, it's natural to seek the cheapest price possible. Below are expert tips on how to responsibly cut expenses without jeopardizing your vehicle's overall performance.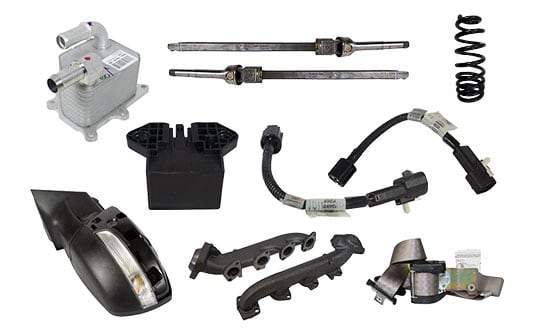 Pursue Service Coupons and Price Reductions to Score Cheaper Rates
Do your research online to find possible discounts on the parts you seek, as well as the installation. For example, Bo Beuckman offers exclusively service specials, as well as Ford coupons on parts like tires, brake pads, and batteries. What's more, by participating in certain loyalty programs, you may be eligible to receive parts and accessories at even cheaper rates. For example, the FordPass Rewards app enables you to earn discounts on maintenance, roadside assistance, etc.
Be Strategic with Which Parts You Purchase Pre-Owned
Some Ford parts you can buy pre-owned and experience a near-perfect performance, such as rims or mirrors. However, other replacement parts must not come used in order to function, such as AC compressors. Consider whether the part you need to replace wears down with use, expires with time, or serves an integral role in your vehicle's ability to function. If you answered yes to any of the above, it's likely that you should buy an OEM part.
However, if you feel confident that a used part is the way to go, do your research! Inquire about its history, and ask about the seller's warranty and return policies.
When in doubt, ask your service technician whether or not he or she recommends choosing a new or pre-owned part.
Think Long-Term When Trying to Cut Costs on Parts
Ford models are meant to last for generations, rather than be vehicles you churn-and-burn. Therefore, consider whether investing in quality products today will prevent you from having to re-purchase it again, again, and again. Tires are a prime example - the cheapest option available is more likely to be a temporary fix rather than a long-term solution. You may spend less money today but may end up spending significantly more over time.
Turn to Trustworthy Technicians and Confirm You Have the Right Part
The biggest waste of money? Buying products you don't need because a technician misdiagnoses your Ford vehicle's issues. Partner with an established service center to ensure you receive sound guidance. Insist that they explain all your options and don't be afraid to ask questions so you feel fully comfortable with the parts you ordered.
If you are finding a cheaply-priced product without the help of your service technician, make sure you know the exact part number to ensure you don't accidentally purchase one that does not fit your specific vehicle. However, this is not advisable for drivers unfamiliar with the particular part they're purchasing.
Turn to Bo Beuckman to Receive Top-Reviewed Service Near St. Louis
Bo Beuckman Quality Ford, a family-run establishment first started in 1970, works hard to earn the trust of St. Louis-area residents. As reflected by our hundreds of five-star reviews, our technicians provide unbeatable service and strong expertise. What's more, our well-stocked Parts Center is likely to carry the components your vehicle needs, meaning that we can get your Ford back on Missouri roads ASAP.
Contact our Parts Center — located half an hour from St. Louis and St. Charles — to set up an appointment with our specialists or order a Ford part for an affordable price.