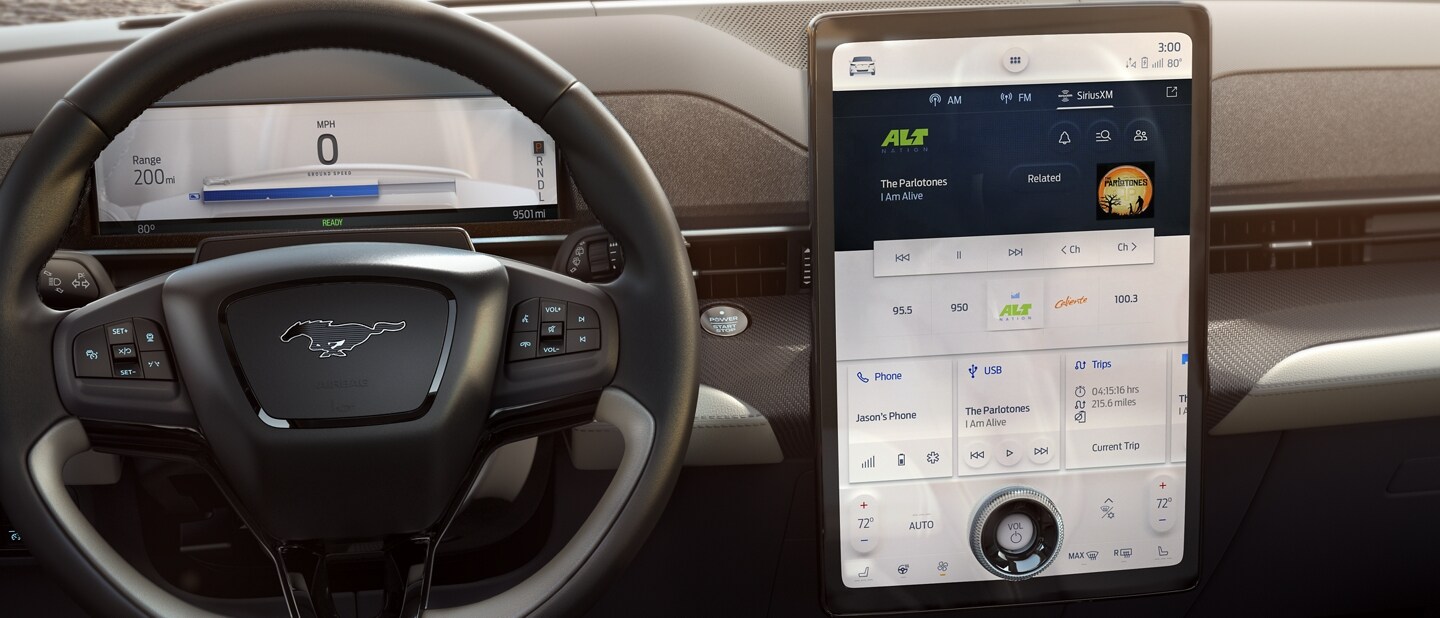 SYNC® 3 improved upon past iterations to provide useful features like a touchscreen, voice command, WiFi capabilities, premium audio, and emergency service assistance. While there's a lot to love about this infotainment system, Ford is further evolving this year with SYNC® 4.
What are the Differences Between SYNC® 3 and SYNC® 4?
Enhanced computing capabilities with cloud connectivity - Ford drivers will enjoy the option of FordPass Connect™1 with a 4G LTE Wi-Fi Hotspot. Your features will refresh with up-to-date information to deliver details in seconds.
Revolutionary voice recognition - Nonchalantly ask your Ford "where is the nearest pharmacy," and the SYNC® 4 will respond with recommendations and directions for the fastest route. Ford upgraded the voice recognition technology to better understand natural conversations, ensuring that it can identify your needs and provide solutions without delay.
New graphics and design layout - Perhaps the most noticeable visual change comes from the split-screen available on 12-inch screens. If you want to change the song currently playing without losing sight of the map, now you can. Plus, the 15.5 inch version comes with dash cards which create shortcuts to the features you rely upon the most.
Over-the-air updates - As new technological capabilities come to light, Ford will update the SYNC® 4 to keep it state-of-the-art. For drivers' convenience, these changes will happen over-the-air, eliminating the need for vehicle owners to visit a dealership or experience interruptions to their infotainment services.
Wireless connection to your mobile devices - Now, you can sync up your phone using WiFi or Bluetooth.
Machine learning to provide a customized experience - SYNC® 4 will get to know you over time — your favorite features, your radio preferences, etc. With this knowledge, it will provide a customized experience to provide the ultimate convenience specifically for you. Don't worry, such information will remain private.
Digitized user manual - Gone are the days of thumbing through pages of the owner's manual, as the SYNC® 4 infotainment system lets you search for topics to swiftly find the answer you need.
Is it Possible to Upgrade from SYNC® 3 to SYNC® 4 On Your Current Ford Model?
Currently, there is no way to upgrade your vehicle's current infotainment system to SYNC® 4, as it is exclusive to newer models like the upcoming 2021 Ford Mustang Mach-E and 2021 Ford F150.
Want to learn more about other enhancements seen in upcoming 2021 Ford models? Stop into Bo Beuckman Quality Ford or give us a call at (636) 227-5700 to consult with our knowledgeable team and perhaps set-up a VIP test drive!