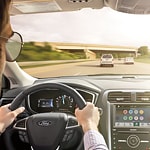 In a Ford Fusion, you'll have access to great features that provide convenience on the road. This popular sedan is available at Bo Beuckman Quality Ford). Before you visit our lot, you can learn more about the Ford Fusion's features in this blog post.
Bright and Airy

The atmosphere in every vehicle's cabin can impact the driving experience. If you care about lighting and comfort, you'll love driving a Fusion. Whenever you need more light, you can brighten the cabin by retracting the power moonroof. If the panel is pulled back while the Fusion is moving, cooling breezes will flow into the cabin, so you won't have to constantly run the AC system to stay comfortable.
A Solution for Clutter

? Although the cabin is spacious, you don't have to store all of your essential items in it because the Fusion has a large trunk. There is 16 cubic feet of space in the trunk; so it has enough space for luggage or several bags.