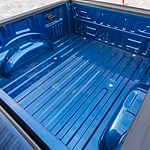 You can find a number of trucks out there that brag about their performance. However, the top-selling Ford F-150 has six incredible powertrains to back up its claim. Here's a look at two top powertrains that makes the Ford F-150 a leader.
Let's start with the popular 3.6-liter V-6 engine that provides you with up to 375 horsepower. This is the standard V-6 engine that provides the F-150 with ample acceleration and towing power to make the F-150 a performance leader. For those who want some incredible V-8 power, there is the 5.0-liter V-8 engine with up to 395 horsepower. This V-8 powertrain is a top choice for those who want big displacement and lots of confident acceleration and towing power when you need it.
You'll want to check out these amazing performance powertrains for yourself. That's why we are making the F-150 available for a test drive at Bo Beuckman Quality Ford. See what these top trucks can do on the road.