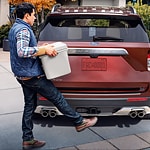 Here at Bo Beuckman Quality Ford our team totally understands why Ford Explorer remains extremely popular in the three-row SUV category. Its advanced safety and tech are standard. So are its highly efficient, powerful engine and drivetrain. Take the following two performance features for example.
EcoBoost: In a Class by Itself
Explorer benefits immensely from its EcoBoost engine, a masterpiece of direct fuel injection and turbocharging. This beast of an engine treats drivers to nearly 400 horsepower and roughly 400 lb-ft of torque. The result?
Read More