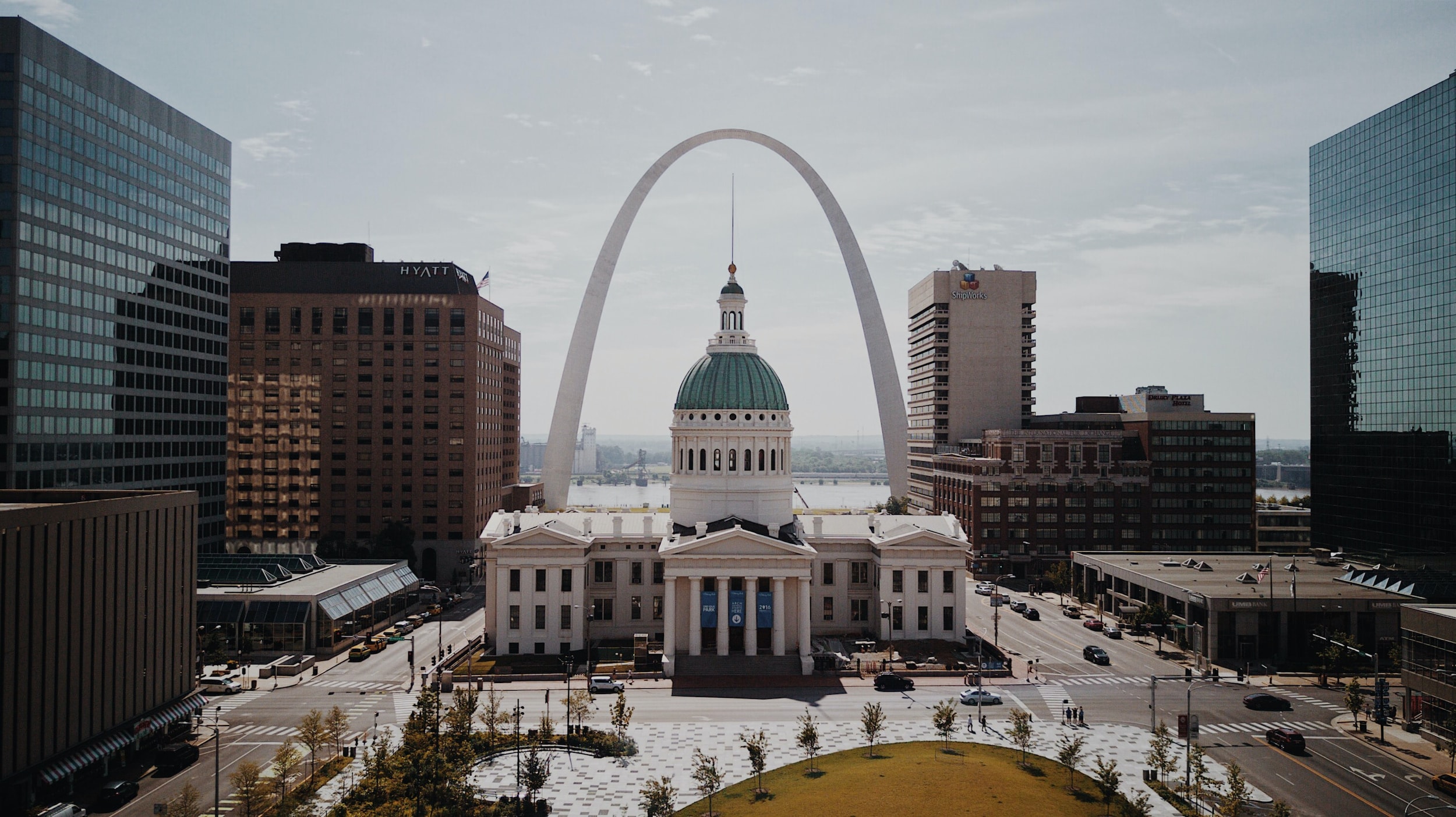 St. Louis, Missouri - as American as Ford
Situated squarely in the heart of the United States is iconic St Louis. Its riverside location makes it the threshold from the East into the West and a central hub of trade. St. Louis's key role in American expansion made it the natural choice for 1904 World's Fair and home to the beloved Gateway Arch. Throughout the 20th Century, this Missouri hotspot served as a springboard for science, education, jazz, and art. 
Like America itself, St. Louis is multinational. Our city is naturally curious as we embrace change while honoring our roots. 
As a St. Louis Driver, You're Amongst Good Company 
. 
There's a lot to love about the St. Louis region: our toasted ravioli, baseball, evolving cultural scene, surrounding natural beauty, etc. While city traffic may not be a high point for us residents, know that you share the roads with some of the country's best drivers. According to QuoteWizard, St. Louis is the 7th best metropolitan for driver safety as determined through data on accidents, speeding tickets, and citations. 
Be proud to hit St. Louis roads, and be proud to drive an All-American Ford. 
Ford Enables Stress-Free Driving in Busy Environments
City driving can add a number of demands on drivers. Whether they have to squeeze into tight parking spots, change lanes in rush hour, or take a detour due to construction, it can be a stressful experience. Ford trucks and SUVs come with a number of helpful features to make your St. Louis driving experience easier. These include:
Active Park Assist - this technology helps you identify whether a parking space is suitable. Once identified, the vehicle can self-steer you into the spot. 
Blind Spot Information Tracking with Cross-Traffic Alerts - Have peace of mind when changing lanes with Ford's BLIS® technology. If you attempt to merge when another vehicle is in your blind spot, you'll receive an attention-grabbing notification to help prevent accidents. 
Lane-Keeping System - Add an extra layer of safety when driving St. Louis's busy streets with the lane-keeping system which helps prevent dangerous swerving. 
Pre-Collision Assist With Automatic Emergency Braking - Ford not only monitors the road beside you but also what's up ahead. Your vehicle can identify barriers like cars and pedestrians and sound a warning alarm. If you don't immediately brake, the vehicle will do it on your behalf to prevent dangerous collisions.  
Waze + Alexa Integrations - SYNC® 3 and SYNC® 4 enables easy access to your favorite navigational tools to help you find the best route home without having to take your eyes off the road. 
Journey our Missouri Roads with the Strength of a Ford
While there's plenty to do within city limits, St. Louis residents can also take advantage of the surrounding natural beauty. As highlighted in our post, Ideas for Scenic Drives Near St. Louis, our hometown is ideally positioned to explore the Great River Road, Mark Twin National Forest, and nearby historic sites and wineries. Drive with confidence with the top engineering of a Ford truck or SUV. Our vehicles are elite enough to handle rustic backroads and cold Missouri winters, so you face no limits in where you can go. Plus, with Ford's industry-leading towing capabilities, drivers can tow trailers to enjoy the St. Louis countryside in style. 
Bo Beuckman Quality Ford is Proud to Have Served the St. Louis Community Since 1970
Our dedication to our city and passion for Ford is in our blood, as we continue to pass the Bo Beuckman torch from one generation to the next. And, thanks to our commitment to customer service and fair rates, we build lifelong customers who stay loyal throughout the decades. 
Located in Ellisville, our Ford dealership and service center are only half an hour from Downtown St. Lous. Call or visit us to learn how our team can get you behind the wheel of a new or used Ford.
Make an Inquiry
Hours
Monday

8:30am-8:30pm

Tuesday

8:30am-6:00pm

Wednesday

8:30am-8:30pm

Thursday

8:30am-6:00pm

Friday

8:30am-8:30pm

Saturday

8:30am-6:00pm

Sunday

Closed