2021 Ford F150
Coming Soon!
2021 Ford F150, Coming Soon to Ellisville and the St. Louis Region
The F150 has dominated the industry since 1948 to become the number-one selling vehicle in America. With the 2021 design, its reign will only grow. 
Why Missourians Love F150 Trucks
Though F150s are equipped to conquer the toughest work and driving conditions, they are ultimately built for comfort. Furnished with a second row of seats, progressive tech features, and an overall attractive interior, the Ford F150 "checks all the boxes" for many Missouri families. 
What St. Louis Drivers Should Expect From the 2021 F150 
Ford is careful not to spill any secrets about the 2021 F150 except that it will use at least 90% of the manufacturing equipment used in current models. However, loyal fans have captured footage of the camouflaged vehicles as the company tests it in various conditions, such as high-altitude. What's more, the Internet is abuzz with speculation!
Below are common theories generally agreed upon by Ford enthusiast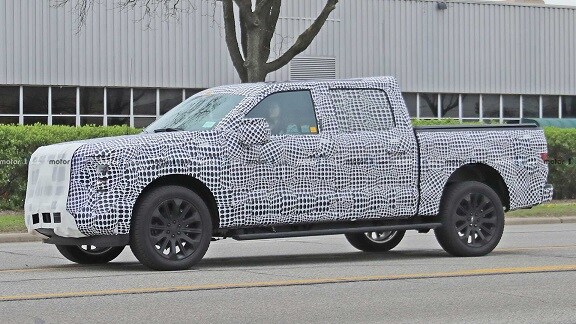 s: 
 What About the Ford 150 May Change
Potential for a hybrid design: Ford announced that it will unveil hybrid and electric pickup trucks in the future. Their engineers are currently innovating to design a vehicle with power and hauling capabilities that surpass its gasoline and diesel counterparts. So, take note, hybrid and electric models are coming! The real question is when. 
The bed materials: Ford previously made the switch from composite beds to aluminum for the sake of weight-savings. However, their engineers may be considering switching back to composite or other materials for optimal results. Like many rumors featured within this article, this has been neither confirmed nor refuted. 
Small modifications to the engines:
The EcoBoost turbocharged engines are the heart of what makes the F150 run. Already delivering top performance, Ford will most likely
not
be switching it out for another option. However, it's possible that they may be investigating whether small enhancements could further improve the engine.
Interior Layout and Technology: The cabin design remains a big mystery for Ford enthusiasts. Many suggest that there may be upgrades in regards to infotainment system and digital instrument offering, as well as screen placement and sizing. Plus, St. Louis drivers can safely expect a different material for the Ford 2021 than the current model. 
Other Small Tweaks: Based on photographs, experts suggest that the headlight and mirror positioning will see improvements. 
What Will Probably Stay the Same
Overall shape: It's clear from photographs that the newest model will share a similar shape to the existing F150, though minor details may see change. 
Rear axle and chassis design: As the expression goes, if it ain't broke, don't fix it! Considering the F150's industry-leading payload capabilities, this beloved vehicle is far from broken. For this reason, expect the axle and chassis to remain fairly consistent. 
Step-Up bumper: Photographs of the test vehicle reveal no modifications to this back-feature. 
Overall payload capabilities: Ford will do everything in its power to avoid taking a step back in regards to the F150's towing capabilities. St. Louis drivers should expect the 2021 F150 to either match or surpass earlier models' strength. 
Other Vehicles You May Like As Well, Available Now at Our Ellisville Location
The 2021 F150 will soon come to dealerships in the St. Louis area, including Bo Beuckman Quality Ford. However, there are additional options for customers to consider, such as older F150 models.
Interested in Learning About Ford F150 or Other Trucks? Call us!
There's nothing our staff enjoys more than talking about Ford trucks, except perhaps setting up VIP test drivers. Call 636-227-5700 to talk to our experts or set up an appointment at our dealership in Ellisville, located only half an hour from St. Louis and St. Charles, MO.